Welcome!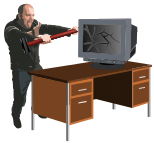 TechnoMage will help you get your computer up and running or back up to speed again!
Ever reached the point where you just can not get your computer to work? Where no matter what you tried, it would just spit back error prompts? Ever been driven to a state of utter desperation? Well, fret no longer. Our team of technology specialists will soon have your machines tweaked, upgraded, installed or fixed so you can get back to your own business.
In particular, we specialize in bringing the power and freedom of Linux to home and small business environments for use with workstations, servers, or regular home computing. We also offer solutions for CCTV, IP Phones, and networking. Chances are if it involves programming we can find a solution. Ask us about our high power wireless network solutions, perfect for large buildings, yards, or farms.